I'm not sure where my needs fall exactly.  There is more complexity to my or my company's situation.  What are the common areas of law in which this law firm does not render services?
We typically do not engage in matters of family law (e.g., divorce, child support, spousal maintenance, etc.), criminal law, personal injury law, bankruptcy law, or immigration law. There are lawyers at other law firms who work more proficiently in those practice areas.
Does this law firm handle disputes?  If so, what types?
Yes, the firm handles legal disputes primarily in the areas of business law, real estate law, and trademark law. A common type of legal dispute we see is a breach of contract dispute, but we also see and handle other types of disputes such as real estate disputes and trademark infringement disputes. We represent clients inside and outside of the Missouri and Kansas state courts and sometimes federal courts too.  You may wish to review two of our services pages concerning disputes: "Advising on Business Disputes & Breaches of Contract" and "Advising on Real Estate Disputes".   
Does this law firm write or review contracts?
Yes, we routinely write contracts and review contracts! Most of the contracts we write or review pertain to business law, real estate law, or trademark law issues. The length and complexity of contracts can vary significantly depending upon particular needs and the dollar amounts involved.  You may wish to read more about interpreting written contract in Kansas and Kansas fundamental contract principles on our blog.
I'm interested in forming a new business in Kansas or Missouri, but I'm not quite sure of the best way to do it.  Becoming an entrepreneur or self-employed in some capacity is really interesting to me.  Can you help?
We have helped many people start businesses in Kansas and Missouri, especially limited liability companies (LLCs). Some aspects of new business formation have been made quite simple, yet there are others that can be very easily overlooked such as selecting (and protecting) the right company name and paying careful attention to trademark rights.  We dedicated a page of our website to trademarking business names.  
What type of real estate law does this law firm handle?
We have great experience in residential, commercial, and agricultural real estate throughout the Kansas City metropolitan area and beyond. We are able to assist with real estate purchases, sales, leases, and exchanges as well as real estate disputes. A good real estate attorney is very important to have on your side whether you are dealing in real estate for business, investment, or personal purposes.
Do you file trademark applications with the United States Patent and Trademark Office?
Yes, we file trademark applications with the United States Patent and Trademark Office (USPTO). We have successfully responded to office actions from trademark examiners, including refusals for likelihood of confusion. Below are images of federal trademark registrations owned by our law firm, one for our business name and one for our logo!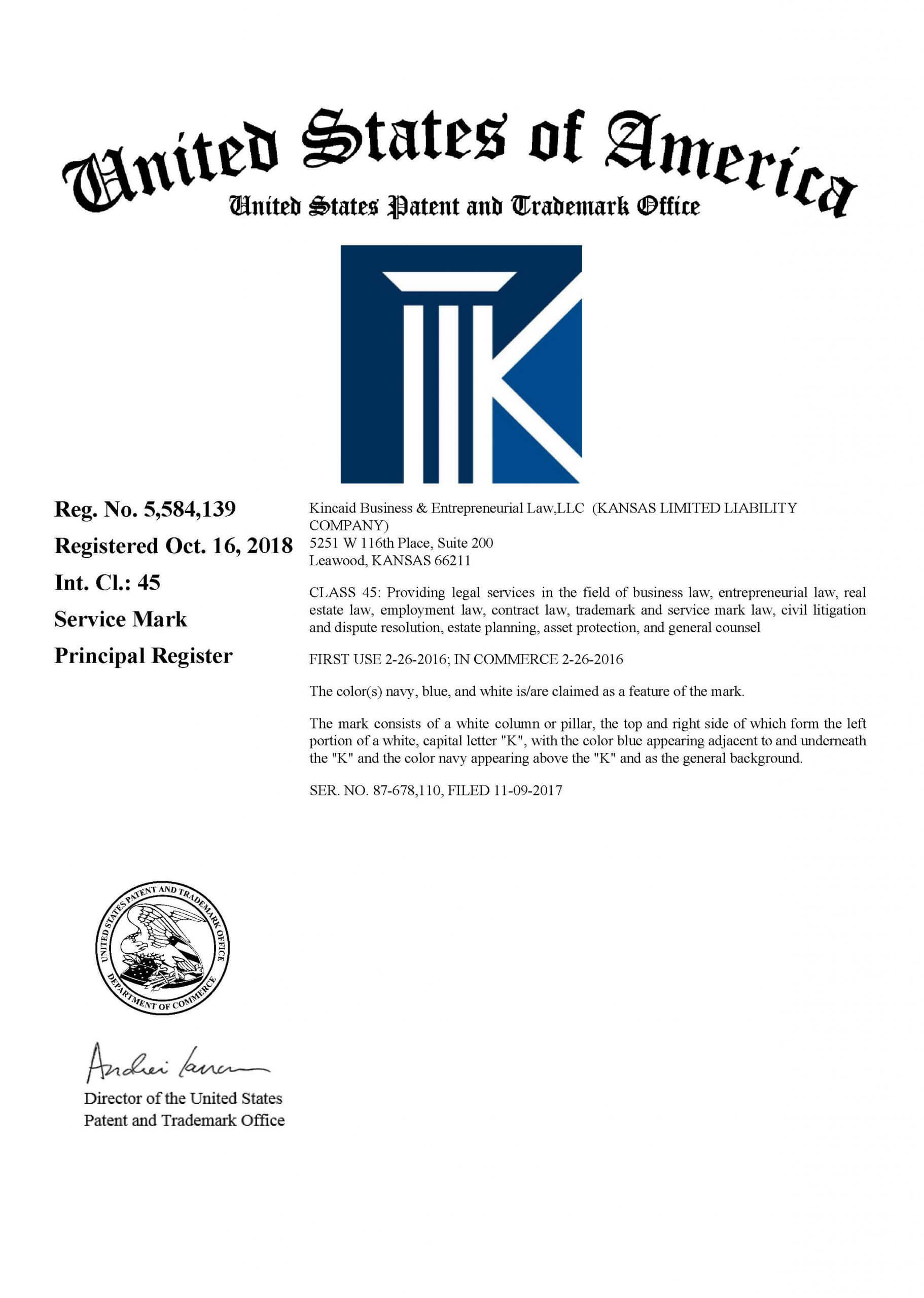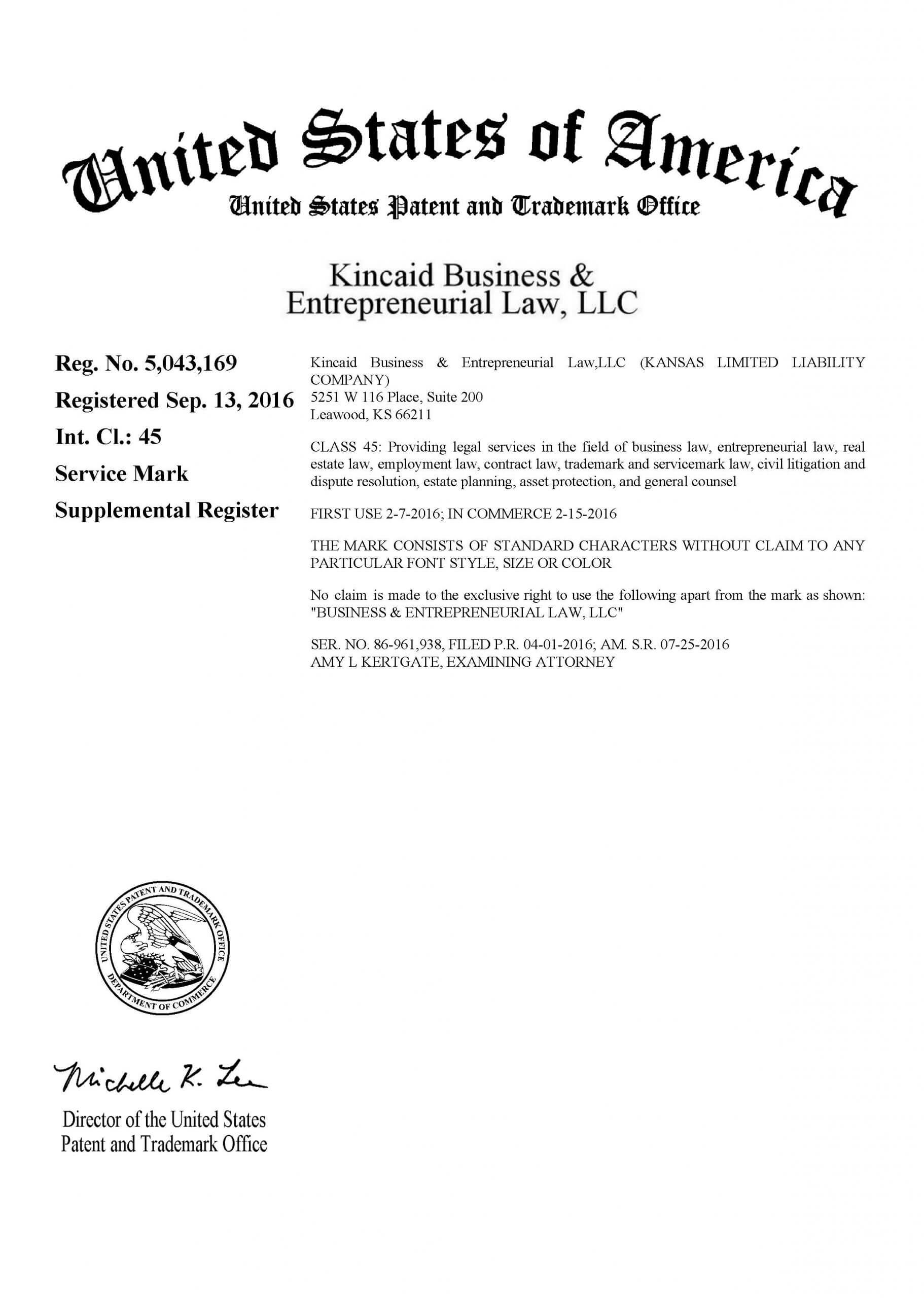 Where in the United States are your services provided?
The vast majority of our work takes place in the states of Kansas and Missouri, but there are matters of federal law that at times take us beyond these two states. Within Kansas and Missouri, we most frequently work within the Kansas City metropolitan area.
How much would I have to pay to hire this law firm?
A great way to get started is with a $150.00 or $300.00 initial consultation, which buys you up to one hour of service time.  Thereafter, we can size up potential future needs (whether they are on a project or an ongoing basis) and offer a fee estimate.  There is no continuing obligation placed on you or the law firm after the initial consultation, so you can rest assured that you won't incur additional fees beyond $150.00 or $300.00 if a mutually agreeable arrangement is not reached.
How do I schedule an initial consultation?  
You can call our office at 913-735-7707, email us at admin@kincaidlawkc.com, or schedule with us online here.  Our online scheduling system is very efficient and user friendly!
Am I limited to paying for services on an hourly basis?
Besides the hourly billing model, a fixed or flat fee billing arrangement (or, in limited circumstances, a contingent or success fee) could be offered.
Do I need to come into your office and meet with someone in person to obtain services?
Although our office space is nice, you are not required to visit us in person.  Many matters can be handled via telephone, email, video conference, regular mail, or even by text message.  In certain cases, we may even offer to come to you.
Did you say text message?
Yes, you can text us at 913-735-7707!  But remember that texting is a way to communicate informally and does not serve the same function as meetings, phone calls, letters, etc.
What are the available payment methods?
We accept debit cards, credit cards, bank transfers, checks, and cash.  Paying by PayPal or Apple Pay may also be possible.  Many clients choose to pay electronically through an Intuit (QuickBooks) payment link.
Where can I learn more about the founder of this law firm?
You can learn more about Matthew T. Kincaid on his personal website here.