Small businesses are the backbone of the United States economy, and there is little debate among Americans as to their importance.  The Kansas City metropolitan area in particular is steeped in the practice of and support for entrepreneurship.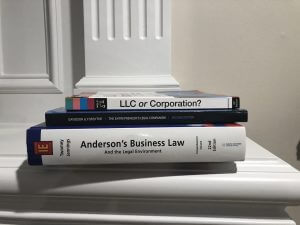 There are many types of professionals who help make small businesses successful: accountants/CPAs, lenders/bankers, appraisers, insurance agents or brokers, financial advisors, investment advisors, business consultants, business brokers, website developers and designers, social media managers, information technology consultants, fellow entrepreneurs, and business lawyers.  Some play a larger role than others for any given business.
In today's day and age, business owners are burdened with too many competing demands on their time to be able to understand all of the various laws that affect their businesses, let alone how those laws might apply in unique situations.  A strategic partner of a business owner is a good business lawyer, a detail-oriented professional who knows how to manage paperwork, communicate clearly, navigate complex issues, and protect the company's reputation and assets in the face of a heated dispute, all while working under pressure with deadlines that may be rapidly approaching.
Contracts lie at the heart of commerce and therefore a business attorney's work.  Businesses across all industries and of all sizes live and die by the quality of their contracts.  Business attorneys interact with contracts daily by writing, reviewing, revising, interpreting, negotiating, or enforcing them.  A profound understanding of contract law is essential to a lawyer's ability to competently advise a client on a business issue.  You may wish to read more about drafting or reviewing business contracts on our website.
Kincaid Business & Entrepreneurial Law, LLC ® is experienced business law counsel.  This law firm is routinely engaged to advise new or existing clients on business law matters throughout the Kansas City metropolitan area and across the states of Kansas and Missouri.
Below is a representative sample of our business law capabilities:
Organize limited liability companies (LLCs), holding companies, operating companies, and other types of entities, and assist with the selection of the proper business form
Apply for registration of foreign limited liability companies with the Kansas and Missouri Offices of the Secretary of State
Prepare and file annual reports on behalf of business owners
Serve as resident agent for Kansas LLCs
Represent businesses in pre-litigation disputes, including the preparation of and responses to demand letters and advocacy in alternative dispute resolution forums such as mediation
Negotiate company sales and purchases, inclusive of membership interest purchase or sale agreements, and navigate companies through other commercial transactions
Perform asset protection services, including counseling on insurance matters and implementing strategies to minimize personal liability
Write LLC operating agreements, master services agreements, statements of work, indemnity agreements, promissory notes, release agreements, bills of sale, sales contracts, and other documents
Amend and/or restate operating agreements
Counsel on the departure, withdrawal, or resignation of LLC members
Draft contracts and review and revise existing documents, templates, and forms
Advise business owners on fiduciary duties and strategic considerations
File and defend claims and lawsuits in the state and federal courts of Kansas and Missouri, including causes of action for promissory estoppel, quantum meruit, unjust enrichment, breach of contract, and breach of implied contract
Perform due diligence on Kansas and Missouri business entities in connection with lawsuits, business purchases and sales, and other matters
Serve as outside general counsel to small and medium-sized businesses
If you would like to make an appointment with Kincaid Business & Entrepreneurial Law, LLC ® regarding a business law matter, please feel free to conveniently schedule with us here.  You may also wish to read more about associated areas of law, trademark law and real estate law, on our website.  For content about business formation specifically, you may wish to read the following blog article: "Forming an LLC Is Not Easy: Business Names & Trademark Law."