Hundreds of years ago, intangible assets were hardly relevant.  Physical assets, such as machinery, buildings, factories, and manpower were the primary focus of businesses and well-accepted as the tickets to profits.  Times have changed.  Today, a company's intellectual property may be the most important asset it has.  It has been said, for example, that the most valuable asset of the Xerox Corporation is the "Xerox" name itself.  Charlie Munger, a world-renowned investor and former attorney, makes the case in Poor Charlie's Almanack that trademarks, specifically, have stood the test of time: "Trademarks, of course, have always made people a lot of money."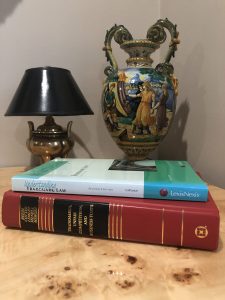 Naming a business isn't optional.  Only a few decisions must be made by every business. The rest are elective.  Think about it.  A business can use Form 2553 to make an election to be an S corporation, but it probably does not have to.  It can write an operating agreement, but it probably does not have to.  It can build a website and engage in ecommerce, but it probably does not have to do that either.  No business can operate without a name.  Try filing articles of organization with any secretary of state's office, opening a bank account, filing a tax return, writing a contract, applying for a loan, etc.
Many companies go far beyond the mandatory decision of what name they will operate under.  Investing in distinctive logos, catchy slogans, and memorable taglines is commonplace and thought to be table stakes for the formation of a three-dimensional corporate identity.
After expending the time and effort to create a unique, quality name and brand(s), protecting them becomes essential.  Brand protection is big business.  A company's name and brand(s) are key sources of revenue, reputation, trust, and identification and distinction in the marketplace.  Part and parcel with brand protection, and the maintenance of brand equity, is brand registration.
Kincaid Business & Entrepreneurial Law, LLC ® is experienced intellectual property law counsel.  This law firm is routinely engaged to advise new or existing clients on intellectual property law matters throughout the Kansas City metropolitan area, across the states of Kansas and Missouri, and federally with the United States Patent and Trademark Office.
Below is a representative sample of our intellectual property law capabilities:
Advise on trademark/service mark matters, including infringement cases or controversies
Assist with pre-suit issues such as due diligence and the preparation of cease and desist letters for trade name and trademark infringement activity
Help new and established companies to select and leverage legally protectable trade names, slogans, taglines, logos, product marks, service marks, and domain names
File federal applications to register existing brands and prosecute marks with the United States Patent and Trademark Office (USPTO), including Section 1(b) intent to use trademark applications, and respond to Office Actions
File name change amendments
Draft and file assignments of trademark/service mark rights and statements of use
Conduct trademark searches and prepare availability letters
Provide trademark strength/protectability assessments
Work with companies on launching new brands or redefining their brand identities through a rebranding process
Craft non-disclosure agreements (NDAs) and confidentiality agreements
Protect trade secrets and proprietary information and practices
Defend and enforce employers' legitimate business interests, such as their confidential information, customer goodwill, or trade secrets
Handle misappropriation of company goodwill, misappropriation of trade secrets, and other matters under the Uniform Trade Secrets Act
If you would like to make an appointment with Kincaid Business & Entrepreneurial Law, LLC ® regarding an intellectual property law matter, please feel free to conveniently schedule with us here.  You may also wish to read more about trademark law on our website.